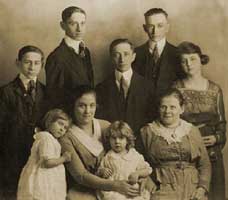 Family Photo
Ary at top-right

Ary Stillman was born February 13, 1891 in a tiny village near Slutzk, White Russia. His early artistic talents appeared quickly and after his graduation from the school in Slutzk, he entered the Imperial School of Art in Vilna.
In 1907, after less than two years in Vilna, Ary came to the United States and took up residence with family in Sioux City, Iowa. There he worked in a jewelry store and devoted his free time to painting. In 1912, Ary had a short interlude of study at the Art Institute of Chicago. Then in 1919 he went to New York City where he enrolled at once at the National Academy of Design (now National Academy Museum and School of Fine Arts). During the day Ary painted at the Academy and in the evenings at either the Art Students League or The Jewish Educational Alliance. The second year in New York, Ary began to think about going to Europe.
Ary Stillman arrived in Paris in 1921 where he lived and worked for the next 12 years. It was in 1928 when he had his first one man show there at the Galerie Bernheim-Jeune. In the following years he exhibited regularly in Paris at the Salon d'Automne, Salon National des Beaux-Arts and the Salon de Tulleries.
During these Paris years, his work was largely objective, but a careful study of his early canvases shows a definite preoccupation with the abstract core of his painting, and a continued interest in the arrangement of shapes to express a subjective meaning. The more academic nature of what we might call his Parisian period formed the necessary foundation for his later work in abstract design.
When Ary Stillman returned to New York in 1933, he came as an established painter. His paintings were still representational but with a subjectivity which continued to mark his works. It soon became evident that the artist was not concerned with superficial aspects but with the deeper inner content of his subject. Perhaps this is one of the reasons that we find him turning gradually to abstraction and to non-objective forms. By the close of World War II, Ary Stillman found himself in a self-created world of abstract forms, always searching for a visible expression to the reality in life.
By 1948, Stillman's work became entirely non-figurative. From 1949 to 1954 Ary had annual one person shows at the Bertha Schaefer Gallery in New York.
Declining vision in one eye and the loss of his treasured studio in Manhattan to developers brought on a period of depression in Ary during the mid-50s. He tried living again in Paris and Majorca, but eventually returned briefly to New York.
After a winter visit to Houston at the invitation of his sister, Ary returned to Mexico in the spring of 1957. From 1957 to 1962, Ary lived and worked in Cuernavaca, Mexico. From 1962 to his death in January 1967, Ary Stillman lived in Houston, Texas.
A retrospective of his work was shown at the Museum of Fine Arts, Houston, in February 1972.
For more information see "Reminiscences, The Personal Life of Artist Ary Stillman"