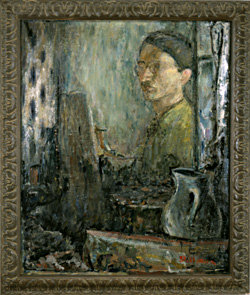 Self Portrait
c. 1920s, oil on canvas
Ary Stillman was a painter, born to Jewish parents in Belarus, Russia in 1891 who emigrated to Sioux City in 1907 to live with relatives. His career as an artist parallels many other Americans of this period who were trained in both the United States and Paris. He worked in a naturalistic and realist fashion until the 1940s when he abandoned his successful career as a painter of realistic portraits, landscapes and still lifes, changing from realism to abstraction.
Stillman's abstract paintings reveal the trajectory of American art in the middle of the twentieth century in a historically and aesthetically significant way. Stillman is one of rare group of artists whose work parallels the Abstract Expressionists. He was painting works that mirrored the developments and "break throughs" of his peers, Jackson Pollock, Mark Rothko and Willem DeKooning. But where these artists are well known, Stillman drifted into obscurity.
This exhibition, organized by the Stillman-Lack Foundation, is a reintroduction of Ary Stillman's work to a broad public. The Stillman-Lack Foundation was created to preserve and study the work of Ary Stillman.
And because Stillman was a leading artist in Sioux City during his own lifetime, it is appropriate that the Sioux City Art Center provide this reintroduction.
Three of Stillman's paintings have been part of the Art Center's permanent collection since its earliest days, and will be included in the exhibition.