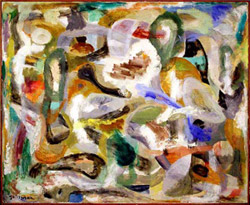 Unnamed, 1954
The pantheon of Abstract Expressionism begins with Pollock, de Kooning and their circle of peers in the New York School. Of late, however, the circle has widened, and artists long on the fringes by virtue of age, race, gender and geography have gradually been incorporated into a less exclusive company of innovators and iconoclasts.
Encore: Five Abstract Expressionists at the Mishkin Gallery from Friday, May 12 – Tuesday, June 6, presents the work of Amaranth Ehrenhalt, Leonard Nelson, Jeanne Reynal, Thomas Sills and Ary Stillman, whose bold artistic experimentations, individually and collectively, are part of the legacy of Abstract Expressionism. Opening reception, Thursday, May 11, 6 to 8 pm.
Leonard Nelson was part of the first generation of Abstract Expressionists whose paintings were exhibited in the influential galleries of Peggy Guggenheim and Betty Parsons. Nelson however left the galleries and the prestigious New York art scene and chose to go his own way, becoming a well known Philadelphia artist and teacher.
Jeanne Reynal also diverged from the early paradigm of the Abstract Expressionist. In addition to being a woman, she was a mosaicist. Reynal's materials were sparkling stones, glass and cement, but her technique was gestural and spontaneous. Like most of the Abstract Expressionists, she created her compositions as she worked, with no preliminary sketches or models. Her densely worked surfaces evoke ravaged, primordial landscapes.
Ary Stillman, the oldest of the five artists shown in Encore, studied in Paris in the 1920s. Though the Paris art scene swirled around Picasso, Braque and the Cubists, Stillman was primarily influenced by the Impressionists. But WWII shattered his early artistic ideals. "For me, the world of surface realities is no longer paintable," he wrote, turning for inspiration to indigenous cultures and automatic drawing.
Thomas Sills was born in North Carolina. He was an African-American and self-taught, not a prescription for easy success in the art world of his time. Sills came to Abstract Expressionism through the artist Jeanne Reynal, whom he married and who introduced him to Willem de Kooning and other prominent avant-garde artists. Sills' work was highly intuitive and he too sought inspiration from primitive art—in the 1950s he made frequent trips to Mexico to study the sculptures, frescos and architecture of Chiapas and the Yucatan.
Amaranth Ehrenhalt is the youngest of the artists in this grouping, but clearly belongs to the Abstract Expressionists. Her canvases explode with energy, vibrant color and organic forms. The designation "action painter" fits her paintings perfectly. Too young to be a pioneer, Ehrenhalt found her milieu in Paris in the 1960s.
The work of this group of artists, as seen in Encore, adds more than a footnote to the history of Abstract Expressionism. It adds diversity and depth.
Zane Berzins (news office)
(646) 660-6113
zberzins@newton.baruch.cuny.edu
Sandra Kraskin (gallery)
(646) 660-6652
© 2006 Sidney Mishkin Gallery, Baruch College