First Annual Stillman-Lack Scholarship Presented to Fine Arts Student
VILNIUS, October 3, 2005: Rimtautas Vizgirda, Chairman of the American Chamber of Commerce in Lithuania, presented the first annual Stillman-Lack Scholarship from the U.S.-Baltic Foundation to Rasa Juseviciute, a student at the Vilnius Academy of Fine Arts, at the school's Opening Ceremony assembly today. Anthony Pahigian, Public Affairs Officer at the U.S. Embassy in Vilnius, as well as several hundred students and members of the academic community, was present for the ceremony. Mr. Vizgirda appeared as a representative of the Washington, DC-based USBF, and noted that the scholarship represents "American generosity and commitment to the future development of Lithuania."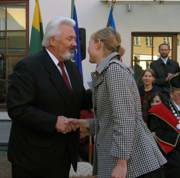 The Stillman-Lack Scholarship Fund was created in honor of artist Ary Stillman, great-uncle of Jonathan Lack, a USBF Board Member. Stillman studied at the Vilnius Academy, the oldest and largest art education establishment in the Baltics, in the early 1900s. The scholarship established in his name at USBF recognizes the educational value in encouraging the development of a creative artist (More information at http://www.stillmanlack.org).
Ms. Juseviciute (pictured at right with Mr. Vizgida at the ceremony), the winning student, is beginning her third year of studies at the Academy for a degree in Photography and Media Art. She was selected competitively by USBF from a pool of talented students nominated for the scholarship by faculty of the Academy.
USBF was founded in 1990 to support democratic and free market reforms in Estonia, Latvia and Lithuania, USBF has raised more than $8 million and established 11 local democratic institutions, including Municipal Training Centers and journalist training institutes in each country. Current activities include strengthening business and cultural relations between the U.S. and the Baltics (website: www.usbaltic.org).